About Us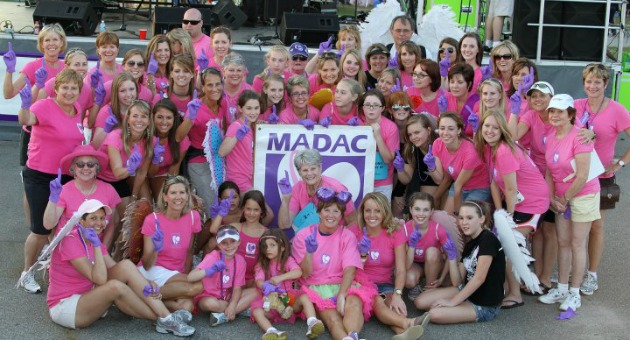 Formed in 1998, Mothers And Daughters Against Cancer was founded by Susan Highsmith Graveline and her then eight year old daughter, Alex. The Charter members consisted of 15 mothers and their young daughters who were friends of Susan and Alex. The mission of MADAC was...mothers and daughters making a difference in the fight against cancer.
As a 2 time cancer survivor, Graveline wanted to teach her young daughter how to be active and positive in the fight against cancer. Graveline was first diagnosed in 1991 with cervical/uterine cancer. Three weeks after founding MADAC in 1998, once again Graveline heard those terrifying words "you have cancer" when she was diagnosed with breast cancer.  With the MADAC members supporting her; Graveline endured a lumpectomy, 4 months of chemotherapy (had a "Shave My Head Party") 6 weeks of daily radiation, and 5 years on Tamoxifen.
In its first year, MADAC raised $ 3,500 for the American Cancer Society. Each year it doubled the funds raised. In 18 years, MADAC has raised over $1,000,000 while successfully strengthening the bond between mothers and daughters. MADAC has grown to over 100 mothers and daughters.
MADAC mothers and their daughters have been very active in the fight against cancer. Many MADAC members have been instrumental on the Norcross High School Relay for Life team which raised $117,000 for the American Cancer Society at the 2008 Relay for Life. Some MADAC members have gone on to college and participated in other Relays on their college campuses.
MADAC has inspired others to start their own teams and become active in the fight against cancer and the Relay for Life.
In 2002 and 2006, the American Cancer Society chose Susan as the Gwinnett County Ambassador to the Celebration on Capitol Hill. Susan and Alex participated in the Celebrations on the Hill on the Mall in Washington, D.C. They will meet one on one with Congressmen John Linder, Saxby Chambliss and other members of Congress to advocate for better cancer legislation and funding.
MADAC has always been a leader at the Gwinnett County Relay for Life which is the largest in the World and the only Relay to raise over $2.4 million in one year. MADAC has won the coveted Spirit Award numerous times and has been in the Top Five Fund Raisers every year.