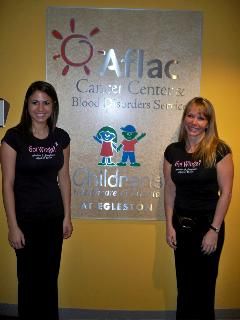 Written by Jacquelyn Kersh, a junior at University of Alabama majoring in Journalism. Jacquelyn is a Charter Member of MADAC — she & her mom Jill Kersh, were on the original team of 15 moms and their daughters when the girls were 8 years old in 1998.
All Robin wants to do is watch her two boys graduate high school. That's her reason to live and the only goal she has before she passes into her next life. She has been struggling with breast cancer for two years and was still living life large and doing everything she possibly could. She didn't just sit on the couch and wait for her time to come, she was active and always positive. She was captain of a Relay for Life team in Gwinnett County. One May she was so sick, she couldn't make it to her relay and her survivors lap to show everyone she was fighting strong. But two weeks later, as sick as she was, she found the strength to go into the American Cancer Society office with her sister and hand over her captain's envelope that she couldn't give at the Relay. The white donations envelope had nothing but fifty dollars inside. But she wanted that fifty dollars to go to cancer research and continue to support the cause she always had. Two weeks later, after Robin watched her dream come true of her last son receiving his high school diploma in his cap and gown, she passed away.
"Small steps lead to big breakthroughs," Area Executive Director for the American Cancer Society, Randy Redner said. "It was important to her to hand deliver that money to me when she knew she was in her last few weeks of life. It was important to her, so it was important to me. It should be important to the community."
Randy still keeps that white envelope on his desk to remind himself what he is working for each day. Almost 2,000,000 new cancer cases were expected to be diagnosed in 2009 and 1,000,000 non-diagnosed, according to The American Cancer Society. About 560,000 Americans will die of cancer this year, more than 1,500 people a day, according to The American Cancer Society. Everyone has been touched by cancer whether it is a family member or friend, or someone personally battling it today. It's statistics like these that encourage amplitudes of people, volunteers, organizations, events and foundations to continuously help fight for the cause. Such dedicated events and organizations are The Relay for Life, hosted by The American Cancer Society, and Mothers And Daughters Against Cancer.
Teams like Mothers And Daughters Against Cancer give patients who are vigorously fighting the battle of life or death, motivation to continue their obstacle when they are feeling like they can't win anymore. Jill Kersh, one of the founding members of MADAC, recalls her most touching story she's seen in her 13 years at The Relay For Life. On MADAC's 10th anniversary, members passed out Angel coins to survivors, people currently fighting the disease, and their loved ones. On one side of the silver quarter-sized coin, there is a picture of an angel, on the other side there is a big "F" with the words faith, family and friends written on the top, middle and bottom of the letter. Outlining the circumference of the coin, it says Mothers And Daughters Against Cancer. The coin is given in a small bag along with a slip of paper with a small saying. The saying reads, "Here's a little angel to carry with you and remind you that even when life gets tough; your faith, family and friends are with you to comfort and care for you. Just say a prayer and comfort is there!"
During the beginning of the relay's survivor walk, a woman in a wheelchair rounded the track with her caretaker pushing her. Nicole Kersh, Jill's daughter, 13, ran up to the woman and handed her the inspirational coin. She first fiddled with it around her finger tips, then read the saying inside and signaled to her caretaker to stop. She clinched the coin to her chest, started sobbing and looked up to God and said a prayer. She grabbed Nicole's arm with such kindness and couldn't stop thanking her through her tears and telling her that was exactly what she needed. Jill watched the entire scene, hugged the survivor in the chair, and walked up to lady's caretaker, who then got emotional reading it and said to Jill, "You have no idea what this means to her. She's felt so alone through her treatment. It's been a very rough time physically with pain and emotionally she felt very alone. This couldn't have come at a better time."
"I still cry thinking about it," Jill said. "Why this event stands out over 13 years is because I had two goals I wanted to accomplish when I started this team that involved my daughters. I genuinely wanted help people and I wanted to teach my girls by my example that when you are physically and financially fortunate, to give back to others that are less so. It's also about leaving this world a better place than you found it. This event cemented what I had originally wanted to teach my daughters. To be generous, giving and loving young ladies and through the years of The Relay For Life and MADAC and watching that experience with the survivor, I know my daughters have learned that lesson well."
From that point on, MADAC has incorporated the concept of angels into their wings on their shirts and have continued to pass out coins for hope on a regular basis.
"MADAC girls have become known as angels on earth," Jill said. "When someone needs some love, support, fundraising or a hug, we as a team are going to do that for them. They aren't alone."
When the team was founded in 1998 by cancer survivor, Susan Graveline and her 8year-old daughter, Alex, it was not a concept they had planned, it was something they genuinely wanted to do. Fifteen mothers and daughters were in the founding year with one goal, to make a bond between mothers and their daughters while teaching them to help others.
"I came from a background of strong women who had strong allies and bonds," Susan said. "It was important for me to solidify that with Alex's friends and mine. Not only to solidify, but to put it towards good."
Susan had been diagnosed with cervical cancer in 1991. She had a hysterectomy and became cancer-free. She then walked her first survivor lap at the Gwinnett County Relay For Life with her 4 year-old daughter. That moment is when Alex told her mom she wanted to stay and be a part of the relay. Susan told Alex when she was older that they would, and they did.
In 1998, Susan heard the devastating news that she had cancer again. This time, breast cancer. She went through Chemo and radiation and a lumpectomy.
"It really took the wind out of my sails, it really took me to my knees," Susan said. "It was right after Paul McCartney's wife died of breast cancer and one of my best friends who was my pledge sister in college just got diagnosed and died of breast cancer. The first time I had cancer, it didn't really hit me that it was a life-threatening disease. I had surgery and they said everything was ok. This time it was life-altering but it was very important to me to be strong and proactive and fight really hard because my daughter deserved to have her mom. The thought of Alex losing her mom was unconceivable."
Unlike the first time, she had MADAC, the team she created, to support her throughout her entire journey. When its members heard the news, they all decorated Susan's house and covered it with purple balloons, purple streamers and a big purple bra on the door to show that they were there for her every step of the way.
"The biggest memory I have of MADAC is when I was on the way back from the hospital with my mom and our house was all decorated," Alex said. "I couldn't really wrap my head around that my mom had cancer, because I was only eight. All I knew is my mom was sick. Knowing that everyone was there for not only my mom, but for my family was big. If it hadn't been for MADAC things would have played out a lot different had all the MADAC members not been there. It was good knowing we had everyone behind us, that's a large reason why my mom was able to beat cancer with flying colors."
There was also a "shave my head party" at the Graveline house when Susan knew she was going to lose her hair. All the girls and their mothers got to shave her hair and make it an educational, fun and supporting experience.
"The girls got to see what cancer was and what it meant to get involved in the cause," Susan said. "At the time it showed, ya I'm losing my hair, but I'm still living. This is cancer, it's devastating but I'm going to kick ass."
Susan walked the survivor lap at the Relay For Life again, but this time being a two-time cancer survivor.
"That lap was very very emotional walking the lap and seeing the MADAC tent," Susan said. "I felt like I could handle anything as long as my core was strong. My core was my family and my friends and I think we all got through that together, it was an emotional journey. In every sense of the word, I felt like I was a survivor. The first time I felt like I was walking with survivors, the second time I was one."
The survivors lap is a signature event at every Relay For Life nation wide. About 5,000 communities in the United States host a relay, and the Gwinnett County Relay hosted at the Gwinnett County fair grounds in Lawrenceville, Georgia, is the biggest one. About 15,000 people attend and 2,000 are survivors who walk the lap. During the survivor lap people of all ages, all different types of cancer, all different stories and stages in their battle come together for one cause, to show that they're fighting cancer or already did. They wear signs on their backs distinguishing who they are walking for and if they are walking in remembrance of someone, if they are currently fighting or if they've already succeeded and for how long. Signs will say anything from zero days, they just left the hospital with the good news, to 57 years recovered.
"It's an opportunity to celebrate, remember and fight," Randy said. "It's an opportunity to celebrate who has won, remember the people they have lost, and fight back. It shows our tight community of cancer survivors and allows everyone to come together. People may think they're alone fighting until they show up and see the other 2,000 individuals on their level and in the community. The survivor lap for me is bitter sweet because I lost my father to cancer, but I watch and celebrate my father-in-law who is with us."
Nancy Cole, a breast cancer survivor, walked her first survivor lap in May 2009. Nancy is a fifth grade school teacher in Duluth, Georgia and heard the news that she had cancer while she was in school. She had to have two lymph nodes taken out and a bottom portion of her breast. But before her surgery, all 300 staff members of the school wore pink to show their support. After immediate surgery, she had to have extensive chemotherapy sessions that altered her ability to live her normal life.
"I was so sick that first Sunday night after my second round of hard chemotherapy that I couldn't sleep," Nancy said. "So I got up and laid on the couch and just cried. I said 'God what am I going to do I can't teach.'"
She learned through the principal of her school that she was able to take a leave of absence with benefits to her. She took the time off and had a substitute teacher finish up her school year. Every week she received a gift basket from each grade level, along with gift cards to dinner, cooked dinner and whatever she needed from her friends at school and of MADAC. The PTA at her school also paid for her to have her house cleaned twice a week.
"God works through people and it couldn't have been better than that," Nancy said. "The blessings kept pouring in. It's amazing what happens when you're time is called on. I had to make the decision whether or not to tell because it was so personal, but the more I thought about it, by telling them I'd be allowing them to help and it would almost be selfish not to. I decided to open my life up. I never dreamed that something like this would happen, but I ended up receiving so much more than I could even dreamed of…The survivor walk was so touching when I came around to the MADAC booth and saw my name. I couldn't believe how many people came out to honor people who had cancer. I started walking and people started putting stuff in my hands and would cheer. My husband (also a cancer survivor) and I walked hand in hand and I started tearing up because people were so sweet. People didn't even know me, but people were cheering for me. MADAC was just one more area of support that I had. They had come in contact with people like me, even worse off, so they understood."
Kim Ragland, another MADAC member and cancer survivor, received help and support when she learned of her cancer. But not only did she get cards, dinners, and a support system, she most importantly had already been educated about cancer from being a part of the team, according to Kim. Although she was still saddened by it, her and her daughter had already been through so many positive experiences through MADAC and seen so many people go through treatments and survive that they were much more educated and optimistic throughout her fight, Kim said. Her son was less positive about the experience because she feels that he was less educated and had seen less positive outcomes of cancer because he wasn't a part of an organization such as MADAC like her daughter. When she was going through her radioactive iodine treatment she was radioactive and wasn't allowed to be around anyone, including her family and friends for one week. Susan gave her the keys to her lake house and let her get away from everything she was going through.
Mothers And Daughters Against Cancer is now a 501C3 which means that they are an official non-profit organization where they can now take funds and give them out to help others locally where they want to, not just immediately to the national American Cancer Society. In this past year since they've received this status, they have helped people in different ways that they couldn't the past 11 years. MADAC has started its own scholarship program where they give $1,000 to a senior high school girl in the local area of Gwinnett County or Fulton County that has cancer and has kept up her grades while showing involvement in school and her community.
Another area where they have reached out is to the Aflac Cancer Center at Children's Hospital in Atlanta. MADAC donated Chester Chest, which is a life-size doll that is used to demonstrate to the kids what is going to happen to their body and where, and funded a paging system. Without the system they used to have to come in and get a white count test and have to wait in the waiting room for an extended period of time to see if their count was in range for treatment. Now with the paging system, the patients and families have the ability to walk through the gardens, go to the chapel, or have something to eat and be paged when they are ready instead of only being restricted to one room.
MADAC and other community donations make positions available to help in these areas for families as they go through these incredible hard times, Development Officer of The Alflac Cancer Center and Blood Disorder Service, Lauren Griffin said.
"It's unbelievable that one gift, Chester Chest, can help young kids understand what is going to happen to them," Jill said. "A port doesn't mean anything to them. Chester Chest alleviates such anxiety of not knowing what is going to happen to them, and that's huge. Kids can see where ports will go or if they're going to have a spinal tap, what that is. Hair and limbs come off of the doll because unfortunately that might happen to them. And the paging system adds a little more normalcy to their lives for the multiple hours a day they have to spend there."
MADAC's most recent commitment is two year funding guaranteed toward the Patient Resource Navigator. The Patient Resource Navigator is a person through the American Cancer Society who is there for the cancer patients every step of the way to help them with anything they need. They are designated to newly diagnosed patients to aide them with their transition of hearing the diagnosis, learning the treatments involved, and help with financial/insurance issues. It can be anything from a personal question, such as they didn't understand what the doctor said, to help needing funds for treatment. The navigator is there.
"It's empowering and awesome to know that we've touched so many lives," Alex said. "At that young age I didn't know that it would become what it did. The team was all about the relationship with my mom. It's solidified we're a really great team and it's all about a relationship between the mother and daughter. MADAC has taught me the voice of a few people won't get you as far as a group will, you can get a lot more accomplished."
Alex is now a junior in college at The University of Georgia and will be interning with Randy at the American Cancer Society during the summer of 2010. Despite the founding member girls that started out as third graders, now about to graduate college, hasn't waivered MADAC's goal to fight against cancer, Randy said. MADAC has grown from starting off with just 15 mothers and daughters in 1998, to now having over 100 members and being a national organization that is now classified as a 501C3.
"One of my mantras in life is out of bad things, good things happen," Susan said. "Out of cancer, the rewards that have come out of it have been unbelievable. I would never wish cancer on anyone, but what has come of it has been a life reward. We did something right, it's meant something. I've been lucky in my life to know my purpose for being here."