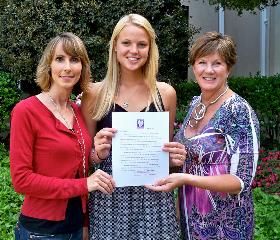 THIS YEAR'S MADAC SCHOLARSHIP – Jacqueline Tate
The Board of Directors of MOTHERS AND DAUGHTERS AGAINST CANCER is proud to announce Jacqueline Tate is the recipient of our 2010 MADAC Scholarship. As you know, Heather Emery was just awarded the MADAC Scholarship for 2009 on the five year anniversary of her beating Ewing's Sarcoma cancer. Jacqueline is a Senior at Greater Atlanta Christian School and plans to continue her education at the University of Georgia this Fall. In addition to maintaining the highest academic marks, Jacqueline has been involved numerous school, civic and church activities. Diagnosed at the age of 3 with leukemia, she has be an incredible inspiration to all of those around her. Additionally, we are so proud to welcome Jacqueline, her mother Laura (a cancer survivor as well) and her younger sister Angela as new members of MADAC!
Shown in photo: MADAC Members Kim Ragland and Susan Graveline award Jacqueline Tate (center) $ 1,000 MADAC Scholarship for 2010
Shown below is the letter Jacqueline will receive along with her scholarship.
Dear Jaqcueline: Congratulations on your selection as the 2010 Mothers and Daughters Against Cancer College Scholarship recipient. The MADAC Board of Directors found your application reflected the values we hope young women aspire to achieve. It is clear that in addition to successfully battling cancer, you continue to excel in the classroom and community. As you enter this new phase in your life, it is our hope that you will continue to inspire those around you, and help MADAC in fulfilling its mission of making a difference in the fight against cancer.
As the MADAC scholarship recipient you will receive $1,000 to be used toward your educational expenses. Additionally, MADAC would like to recognize you, your amazing fight against cancer and your many accomplishments at the 2010 Gwinnett County Relay for Life being held on May 7, 2010. We will notify the Greater Atlanta Christian School high school counseling office so that you may be recognized at school as well.
We look forward to sharing in your excitement as you enter a new challenge in your life…attending college. Each and every MADAC mothers and daughter shares in congratulating you on this honor!
MOTHERS AND DAUGHTERS AGAINST CANCER Board of Directors