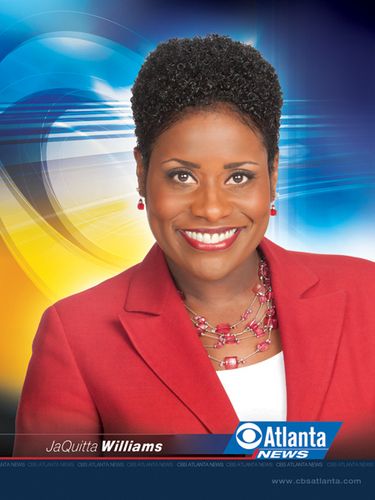 JaQuitta Williams joined CBS Atlanta News in July 2010 as an anchor and reporter. She anchors the 4 p.m. and 6 p.m. newscasts with Stephany Fisher.
JaQuitta is no stranger to the Atlanta market—before joining CBS Atlanta News, she spent four years as an anchor and reporter at WSB-TV. JaQuitta came to Atlanta after serving as a morning anchor and reporter at KSHB-TV/NBC Action News in Kansas City, Missouri.
JaQuitta's career in TV news spans nearly 20 years and has included anchoring, reporting, producing and writing. JaQuitta has been featured on CNN Newsroom with Kyra Phillips, and CNN's "Your Bottom Line," hosted by Gerri Willis, along with CNN Newsroom with Fredricka Whitfield. In addition to her extensive experience in television news, JaQuitta co-hosted Magic 107.5′s radio show called "Women's Wednesday" and was an actress and singer in Director Robert Townsend's "Musical Theatre of Hope" which aired on the Gospel Music Channel in 2009.
Other acting gigs include guest starring on Tyler Perry's "House of Payne" and "Meet the Browns."
On the print side, JaQuitta was featured in the October 2008 issue of Essence Magazine, where she talked about her diagnosis of breast cancer in July 2007.
A favorite moment in JaQuitta's career was interviewing R&B singer James Brown. She was an opening singing act for James Brown during a concert to celebrate his birthday. Another favorite moment was interviewing Good Morning America's Robin Roberts. Both JaQuitta and Robin fought their breast cancer battles publicly.
JaQuitta grew up in Augusta, GA. When she's not working, she enjoys running with her dog CeeJay, watching movies, and spending time with friends and family.